Listing page will display all the information available on OLR Web in a compact, easy to use format.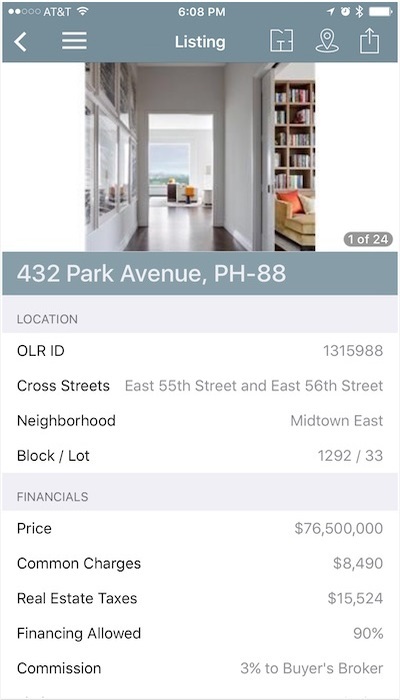 At the top of the page you will find your Map View tool, Floorplan button if floorplan is available, and Action Menu with following options: 
Add to Customer Portfolio: Will prompt you to select a customer and listing group you want to save the listing under. 
Add to Customer Itinerary: Will prompt you to select a customer, date, and time for your appointment.
Contact Agent: Displays contact information for listing agent.
Share Listing: Sends a short URL with listing details via one of messaging apps installed on your phone. 
Company Website: Takes you to company webpage on your mobile browser.
Building Details: Takes you to a building page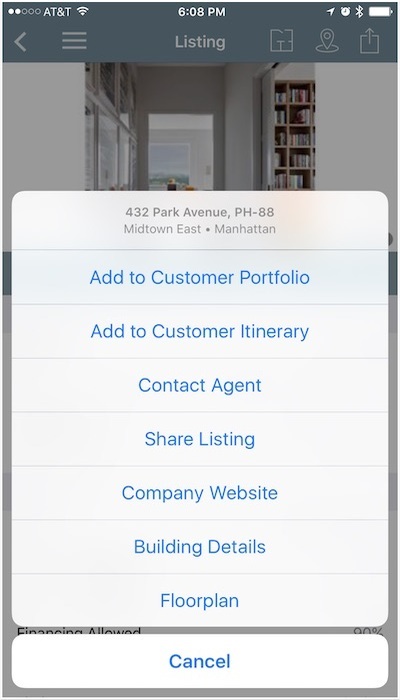 You can swipe across the photo section to preview the media or tap to enter theater mode.
All of the listing information on OLR Web is also available on OLR Mobile. The only difference is the layout and added convenience of being able to call/text agent on the top of e-mail function already available on our OLR Web